Camp Information
Located in the Orosi Valley, El Jardin Sagrado is along the River Revantazon (Rio Grande de Orosi), in La Alegria de Orosi.
Directions
35 kilometers from the San Jose airport, El Jardin Sagrado is located in the Orosi Valley in the town of Alegria, just between Palomo and Cachi. We are located 400 meters north of the foot bridge, La Alegria, Oriso, Cartago, Costa Rica. The camp is on Route 224 (Ruta 224), a paved road, accessible by car or bus.
For cars, vans and small buses – From Cartago, go through Paraiso toward Orosi. Drive through the main street in Orosi and cross the bridge into Palomo – after going through Palomo look for the foot bridge on the left side, about 3 kilometers from Palomo. The camp is on the left hand side – 400 meters past the foot bridge. Look for the red gate with the sign "El Jardin Sagrado".
For large buses and oversized vehicles
– From Cartago, go through Paraiso toward Cachi. Go down the mountain in Ujarras and drive past Cachi. The camp is on the main road on the right hand side, 400 meters before the foot bridge.
Our client number with Banco Nacional is 15114710010009892
Celebration Center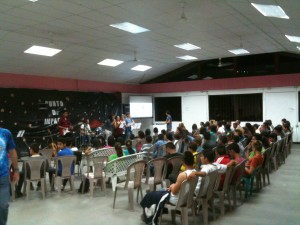 The Celebration Center was constructed in 2008. There are 5 different entry doors around the building. There are 2 vestibules on the south side of the building that can be used as reception areas, for small group meeting spaces, or as prayer rooms. The building has a maximum capacity of 250 people, and is great for conducting church services, children's activities, youth activities, teaching seminars, movies, and meals. The building is equipped with lights, electrical outlets and ceiling fans.
Camp Entrance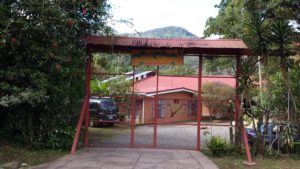 Shown from the street (Ruta 224), the camp entrance also shows the first building where the camp office is located. This building has a large enclosed porch for reading and is our outdoor "internet café".
Kitchen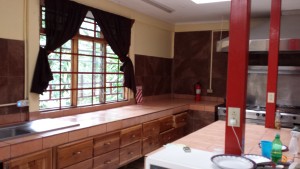 The kitchen was enlarged during a 2008 remodel. There are large food preparation stations, 2 full sinks, two refrigerators, and a large commercial-like propane stove with grill and oven. The kitchen is large enough for up to 10 people to work in. There are 2 serving windows that open up to the breezeway adjacent to the Celebration Center, a private bathroom for the staff, and a back door that opens up to a covered porch.
Central Bathrooms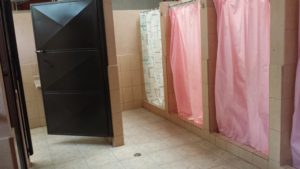 The main bathrooms are located just off of the Celebration Center. There is one for men and one for women. Each has hot water from a large central water heater, 4 shower stalls, 3 sinks, and 3 toilet stalls. The bathrooms are wheelchair accessible.
Remaining camp property.
Bordered by the River Revantazon, the rest of the camp includes a small soccer field and one rancho.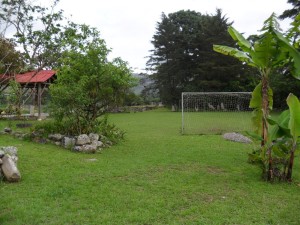 Swimming Pool
Available for your use as a place to hold baptisms, or just for recreation.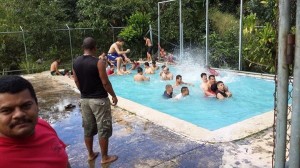 There are 4 cabins for overnight guests, that can accommodate a total of 62 people. In addition, we allow people to bring tents if more than 62 people will be staying overnight.
One of two original cabins, the cabin pictured at right has 4 separate bunk rooms. Each bunk room can hold 4 to 6 people. There are 2, three piece bathrooms.
Another original cabin at your right was converted for term missionaries, but can also be used for mission teams and rentals. This cabin has two bedrooms each with its own bathroom and shower. One bedroom has a bunk bed, while the other bedroom has a bunk bed with a full size bed on the bottom bunk. In addition, this cabin also has a small stove, refrigerator, microwave, and a common living room.
The caretaker cabin. Originally the property's caretaker house, this cabin was recently renovated, with a bathroom containing 2 shower stalls,2 toilet stalls, and one sink- all with hot water. It has an open floor plan and can sleep 14 people. This cabin also has a covered porch and is located near the kitchen.
The newest cabin. The newest cabin on the property was built in 2012. There are 6 bunk rooms, shelves for suitcases, and bathrooms. The rooms sleep 4-6 people each. The bathroom has a door that can be locked in the center to divide the cabin into two separate sections. Each section has 2 toilet and shower stalls and 2 sinks. The bathrooms have hot water provided by a propane water heater. There are 2 entry doors and each has a covered porch. This large cabin sleeps up to a total of 28 people, 14 people per section.